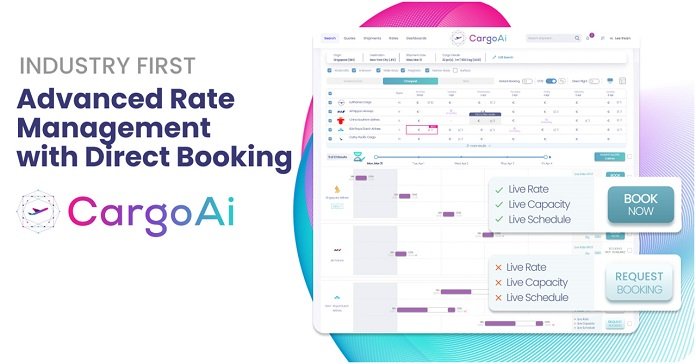 Users of www.CargoAi.co can now view and manage all cargo rates directly on the platform (street, contract, spot, interlines…), enabling considerable efficiency gains for freight forwarders and carriers.
Thanks to the "Booking Request" integrated into this new Rate Management functionality, freight forwarders can also make an e-booking request directly via the platform to all airlines. 
This new product feature is unique to an air cargo digital solutions platform and provides freight forwarders worldwide with access to market and contract rates, easing capacity procurement decisions and processes.
The digitalization of the distribution and procurement processes accelerates with the inclusion of the Rate Management feature integrating the Booking Request on the platform www.CargoAi.co. Not only was it expected by current users but also highly desired by airline and GSA partners.

On the freight forwarding side, detailed cargo capacity booking requests with flight, dimensions, and rates are sent to any airline or GSA via a standardized e-mail (or FFR in booking systems). For airlines and GSAs who don't have eBooking API available, this new functionality allows them to still achieve e-Bookings and thereby benefit from the advantages of a digital distribution process: simplicity, time-saving, and cost reduction.

This is made possible thanks to CargoAi's unique and complete live schedule solutions that provide the most accurate schedule data in Air Cargo and have been the backbone for the eQuote (Spot) requests functionality.

"Like all the features we are launching, Rate Management with the integrated Booking Request option is a further step towards the digitalization of the entire air cargo distribution and procurement process. We developed it following feedback from users of www.CargoAi.co, who are seeking services that have a direct impact on their bottom line while having much better visibility and ability to manage their booking requests. Airlines and GSAs can still modify, confirm or reject a booking," explains Matthieu Petot, CEO of CargoAi.

CargoAi continues to be at the forefront of the digitalization of airfreight, making waves by continuously bringing innovative solutions to the market.